Special Offer for Email Subscribers
Get This $15 Survival Business Card FREE! as part of a HUGE Emergency Food NZ National Promotion.
You get 1 credit-card sized mini survival tool. All we ask is you cover the shipping and handling ($5.95 anywhere in NZ). This 11-in-1 pocket-sized mini survival tool is ideal for camping, hiking, backpacking, hunting, and trail riding. It's smaller than a credit card so you can keep it permanently in your wallet in it's protective case. At the ready – Just in case.
Constructed from thick gauge stainless steel, it has 11 different tools built right into the body: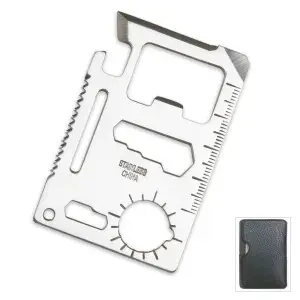 Can opener
Knife edge
Screwdriver
Ruler
Bottle opener
Butterfly screw wrench
2 position wrench
Saw blade
Direction auxiliary indication
4 position wrench
Key chain hole
So here's the deal…
It's FREE!
Yep, all you have to do is pay shipping & handling of $5.95 and we will send it right to your door, anywhere in New Zealand.
So what's the catch?
We have a limited supply and you need to grab yours free, right now, before they're gone. Click the big GREEN Button below now to claim yours!