The Essential Family First Aid Kit
This is the first aid kit for mums & dads that want to be fully prepared.
This medium sized soft pack kit has everything you need to take care of most first aid incidents and injuries.
Assembled in New Zealand.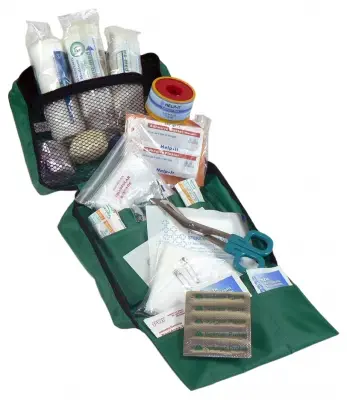 Contents List:
2 x Triangle Bandage with 2 Safety Pins
1 x Eye Dressing
1x Large Wound Dressing
2 x Medium Wound Dressing
2 x Gauze Swabs 2's 7.5mm x 7.5mm
3 x Antiseptic Wipe
2 x Povidone Iodine Prep Pad
2 x Wound Irrigation Solution
1 x Roller Bandage 7.5cm wide
1 x Roller Bandage 5cm
1 x Fabric Plaster Roll
20 x Plaster
2 x Fabric Knuckle Plaster
2 x Fabric Finger Tip Plaster
1 x Fabric 1m Dressing
1 x Splinter Probe 5's
1 x First Aid Tweezers
1 x Scissors
1 x Silver Blanket
2 x CPR Resuscitation Mask
3 x Examination gloves
1 x First Aid Tips (not a replacement for training)
1 x Aids/Hepatitis Warning Label
1 x Carry Pouch
1 x Clean Up Bag (Contaminant)
Note: Contents lists are correct at time of publication. Could vary slightly from that listed. Images are for reference only and contents can vary from pictures.