Workplace 1-50 Person First Aid Kit
This extra-large first aid kit is suitable for industrial and commercial workplaces/large offices with up to 50 people.
This first aid kit comes in a sturdy wall-mountable metal box in either a landscape or portrait format. Or alternatively a metal wall-mountable clear front cabinet. See the options below.
The updated metal boxes now have a large solid white cross and large wording on both of the sides of the box. So it can be seen from further away and from all angles. Each kit comes in its own cardboard box and each box has cardboard protection around the closing latch to mitigate damage during transportation.
For the next size down instead, see Workplace 1-25 Person First Aid Kit.
Assembled in New Zealand.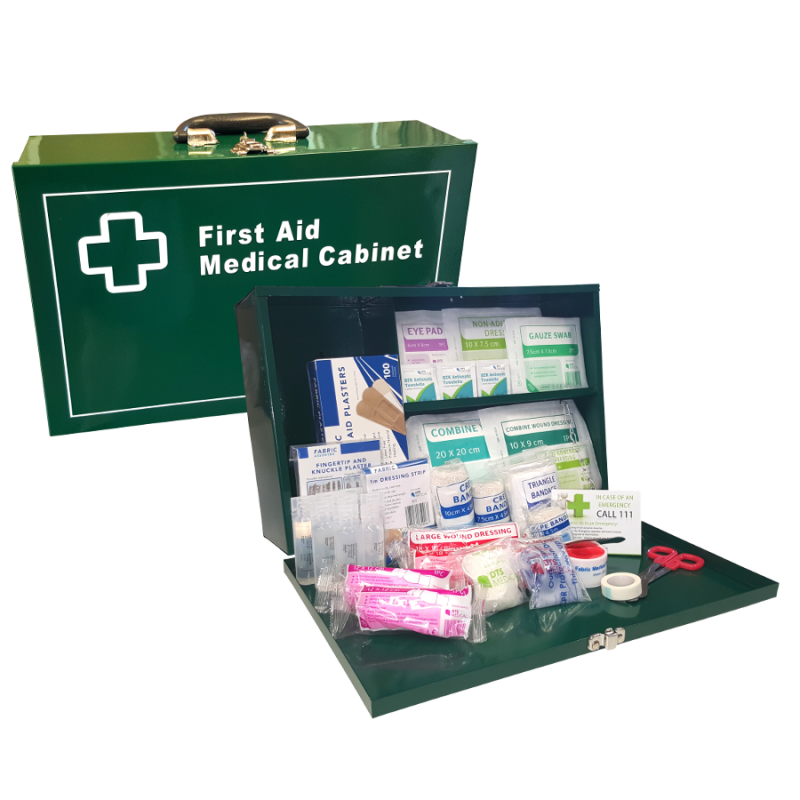 Contents List:
| | |
| --- | --- |
| Contents 1-50 Person Work Place First Aid Kit | Quantity |
| Triangle Bandage | 2 |
| Eye Pad | 3 |
| Large Wound Dressing | 2 |
| Medium Wound Dressing | 2 |
| Non Adherent Dressing Medium | 2 |
| Non Adherent Dressing Small | 4 |
| Combine Dressing Medium | 1 |
| Combine Dressing Large | 1 |
| Combine Dressing Small | 2 |
| Gauze Swabs 2's | 8 |
| Antiseptic Wipes | 10 |
| Wound Irrigation Solution | 240ml |
| Safety Pins | 10 |
| Roller Bandage 5cm wide | 1 |
| Roller Bandage 7.5cm wide | 1 |
| Roller Bandage 10cm wide | 1 |
| Medical First Aid Tape 25mm | 1 |
| Medical First Aid Tape 1.25mm | 1 |
| Fabric Plasters Normal | 100 |
| Fabric Plasters Assorted | 24 |
| Fabric Plaster 1m Dressing Strip | 2 |
| First Aid Tweezer | 1 |
| Scissors  Medium Rescue shear | 1 |
| CPR Resuscitation Mask | 3 |
| Examination gloves (Pair) | 4 |
| Contaminant Bag | 1 |
| First Aid Tips | 1 |
| Aids/Hepatitis Warning Label | 1 |