Sports First Aid Kit – Compact
An essential compact first aid kit with the basic tools to take care of most typical sporting incidents and injuries.
Assembled in New Zealand.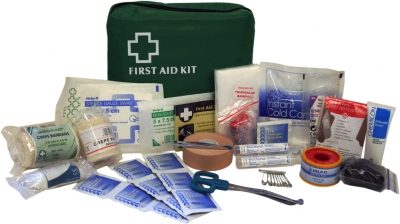 Contents List:
2 x Triangle Bandage (with 2 Safety Pins)
1 x Eye Dressing with attached bandage (sterile)
1 x Non Adherent Dressing 7.5cm x 5cm
1 x Non Adherent Dressing 7.5cm x 10cm
1 x Gauze Swabs 2s (sterile) 7.5 x 7.5cm 12ply
1 x Strapping tape 25mm wide x 5m long on spool
1 x Skin Closure Strips (pack of 5)
1 x Safety pins (pack of 10)
1 x Chemillon antiseptic cream 25g tube
1 x Instant ice pack (single use disposable)
10 x Antiseptic Wipes
1 x Irrigation Solution
1 x Crepe Bandage 7.5cm wide
1 x Crepe Bandage 5cm wide
1 x Fabric Plaster Roll
20 x Plasters
1 x Tweezers
1 x Scissors
1 x CPR Resuscitation Mask
1 x Disposable Gloves (pair)
1 x Basic First Aid Data Sheet
1 x Aids/Hepatitis Warning Label
1 x Pouch (small)
Note: Contents lists are correct at time of publication. Could vary slightly from that listed. Images are for reference only and contents can vary from pictures.