3 in 1 Car Escape Tool (2 PACK)
Seat belt cutter + Car window breaker + now an emergency whistle
Compact, lightweight & powerful
Easily accessible, no installation required
Attaches to your car keys
To use: Simply remove the cap to use the safety blade
Car accidents happen only too often. Doors are often jammed shut or electric windows won't open.
With one of these vehicle rescue tools on your keyring you can be sure you and your family will escape from a vehicle that is on fire or sinking in a river, lake or flood waters.
Plus if you ever happen across a car accident you won't have to stand by helplessly if the passengers remain trapped.
Since most NZ families have 2 cars, you get 2 vehicle escape tools – one for each set of car keys. At this price you're basically getting the second one free. So consider grabbing some for family and friends too.
This Car Escape Tool is a lightweight and space-saving alternative to carrying a car rescue hammer.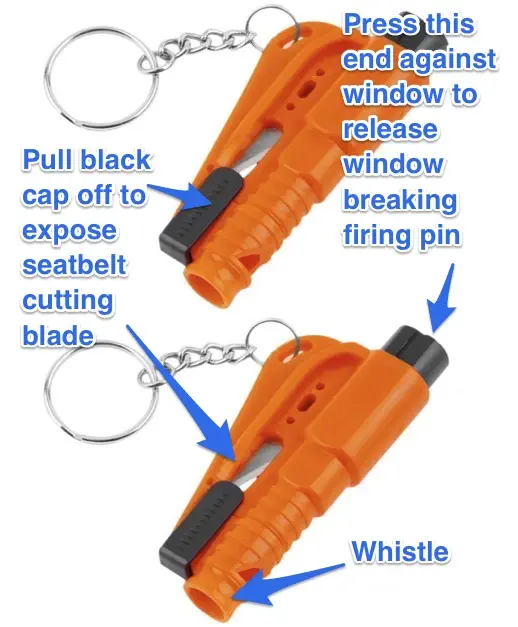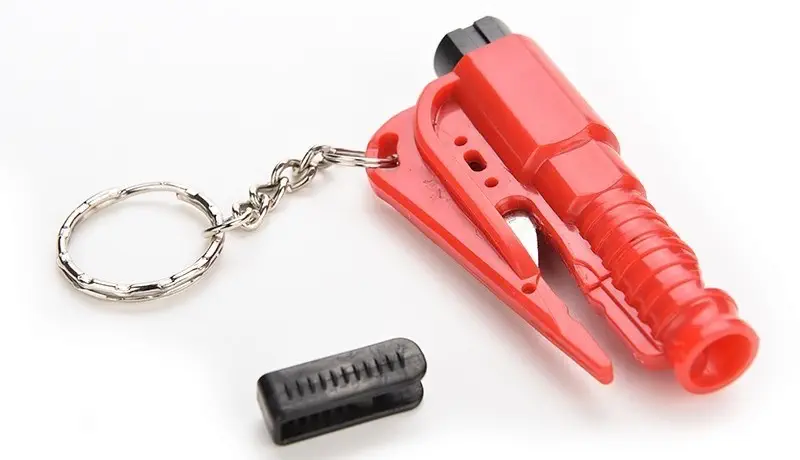 Cut Someone Free From Their Seatbelt in an Accident:
Don't be left feeling helpless if you happen across a car accident and can't remove someone from their car due to their seatbelt being jammed. The safety blade on these car escape tools cuts easily through a seatbelt in only a second or 2.
(If you missed it you can hear radio hosts Gary McCormick and Simon Barnett tell their stories of this very helpless feeling on TV3's "Story" here. Listen closely to Gary McCormick and you might also hear why the whistle on these devices might be a life saver too).
How to Use Your Car Escape Tool:
Simply pull the black clip off.
Once removed this exposes the steel blade to cut through your seat belt.
Then protect your eyes and press the round black end of the escape tool against the corner of the vehicle side window until it releases the steel bolt smashing the window.
Cover your elbow with clothing or something protective and knock out the remaining glass before escaping through the window.
Save your voice and use the whistle if you need to signal for help.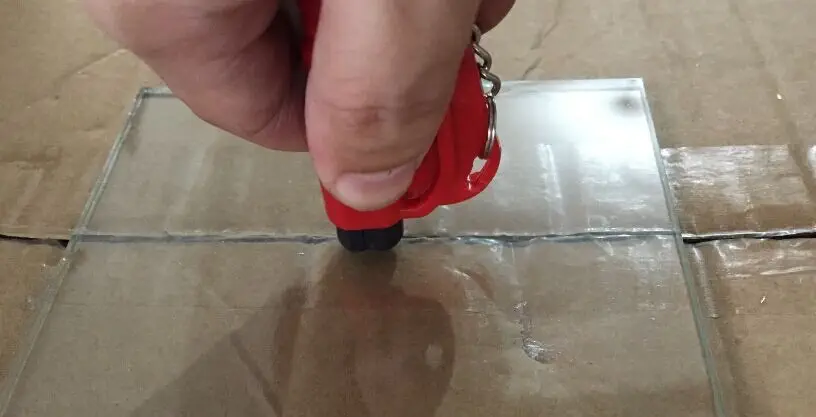 Escaping from a Sinking Car
See a car escape tool being used at the end of this video, plus you'll learn the best way to escape from a sinking vehicle.
Order Your Car Escape Tool 2 Pack Today
NZD $32.00Select options
Bulk Order?
Click below to request a quote for 100+ escape tools. Specify how many Escape tools you require in total…
Request Bulk Quote