How to Escape a Sinking Car or Vehicle
What's the odds of you having to escape a sinking car? It might be higher than you think…
The floods in Dunedin and Wanganui this winter while causing a significant amount of damage, thankfully resulted in no loss of life.
But we were reminded that this is not always the case.
It was only a few months ago that a man drowned in his vehicle in a flooded river in South Hokianga as reported in the North Advocate.
A quick scan of news headlines in recent years shows that car crashes into rivers are a surprisingly common cause of death. Here's just a few:
We also recall an article in our local paper here on Auckland's North Shore of a woman being dragged from a car just before it sunk, after she accidentally drove it into the sea beside the Auckland Harbour Bridge.
She was lucky there were onlookers and 2 policemen close by when it happened and so she was dragged out in the nick of time as the video below outlines.
Myths About How to Escape a Sinking Car
There are a number of myths when it comes to escaping a sinking vehicle such as:
Wait for the car to be fully submerged so you can open a door after the pressure has equalised
Call 111 and wait for help to arrive.
You'll have an air pocket that will let you breathe for many minutes when the car is submerged.
So What is the Right Way to Escape a Sinking Car?
Don't panic but get out fast.
As soon as the car hits the water get your seat belt undone.
Wind down a side window. Even electric windows will likely still work at least for a few seconds until they short out.
Push children out first, before following them out the window
What if the Electric Window Fails to Open?
Now days just about every car has electric windows though.
While they may work for a few seconds before shorting out, how do you escape if they fail to open?
You'll have to kick a window out which is easier said than done. (See video below)
That's why we think everyone who drives or rides in a vehicle needs one of these tools…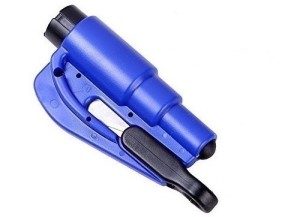 Not only will it cut through a jammed seat belt it will also allow anyone of any strength to break a side window and escape from a sinking car or vehicle.
It's also just what you'd need in case of a vehicle fire, enabling you to cut a jammed seatbelt and break a window to escape before a fire engulfs your vehicle.
It is small and attaches to your car keys so you'll have it on you when you need it most.
Click here to learn more…
Check out the video below which demonstrates the correct technique for escaping from a sinking car. Plus it also shows an escape tool in action.
Watch it now as it is short but shows exactly what to do. It could save your life or someone you know one day.
Please share this article with those you care about so they know what to do too. Just click the Share icons to the left to do this.
What to Do: Car Sinking in Water, Only Seconds to React – via ABC News