Have you ever felt the blast of a volcanic eruption and seen a massive ash cloud hurtling towards the living room window?
We have and it was scary stuff.
So how are we still alive to tell the tale?
We'll it wasn't our living room window but rather the "window" in the Auckland Museum Volcano Simulator showing an eruption in the harbour! It certainly made a few people in the audience jump.
If you want to see what it looks like check out the impressive video below:
Auckland Museum Volcanic Eruption from Brandspank on Vimeo.
They have brochures available when you leave, detailing you how to prepare for a possible eruption. And as the gallery displays said, in Auckland it is a case of WHEN – not IF – there will be another eruption. As the volcanic field in Auckland is dormant but not extinct.
Who is Most at Risk of a Volcanic Eruption?
Visiting the simulator reminded us of an article we'd seen a few months back, showing the Volcano "hot spots" in Auckland. If you live in Auckland check whether you're in one of the more at risk suburbs on the Map below:
"Next Auckland eruption: Should you worry? Map pins volcano risk spots

New models have laid bare the threat explosive volcanic activity poses to our largest city, with Three Kings and Mangere among the Auckland suburbs most vulnerable to devastating, high-powered blasts.

Just-published maps, created by a Massey University researcher, show for the first time which areas are more at risk from a violent kind of eruption that can send a turbulent cocktail of gas, steam and fragments roaring from the ground. These events are sparked when magma mixes with water from the sea or underground, causing an explosion.

Scientists have shown how more than three quarters of the 52 volcanoes in the vast Auckland Volcanic Field bear ancient evidence of such activity."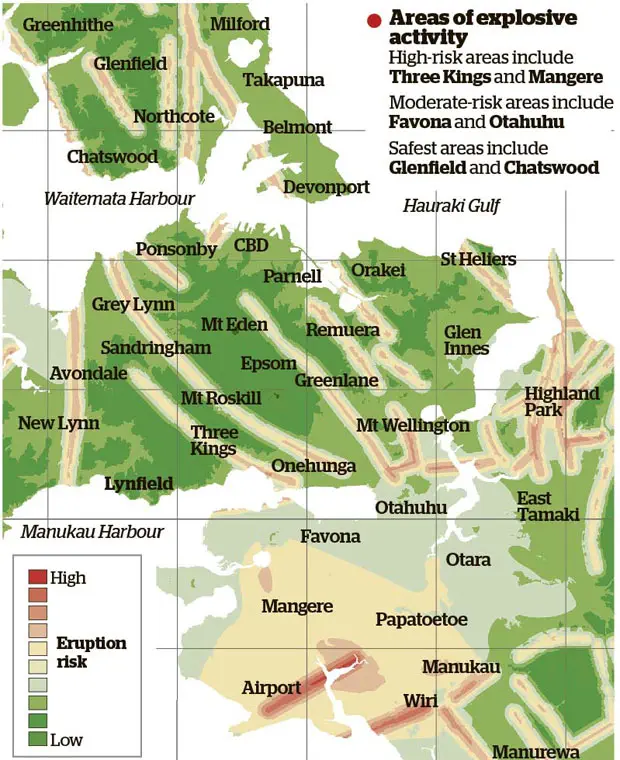 How Much Warning Would You Get of a Volcanic Eruption?
Scientists, civil defence experts, academics, and council staff looked at how much warning Aucklanders might get at a Volcanic Risk in Auckland forum:
Mt Tongariro eruption in August [2012], scientists monitored seismic activity, but were unable to predict the exact eruption time.

"GNS volcanologist Brad Scott said there had been between 50 to 55 eruptions in the field over the last 250,000 years, but the results were "variable over that time", and it was not possible to pinpoint when volcanic activity could next occur.In the case of the Mt Tongariro eruption in August [2012], scientists monitored seismic activity once signs of unrest occurred, but were unable to predict the exact eruption time.Aucklanders could expect days to weeks of warning at most, he said."Volcanoes always put their hand up."
Who Else in New Zealand is at Risk of Volcanic Eruption?
But it's not just Aucklanders that should be prepared. Most of the North Island is at risk, at the very least, from ash fall from the likes of Ruapehu or Taranaki.
Geonet has webcams with photos of 6 active volcanoes in NZ and alert levels for 12 volcanoes.
Click the image below to head over there and check that out: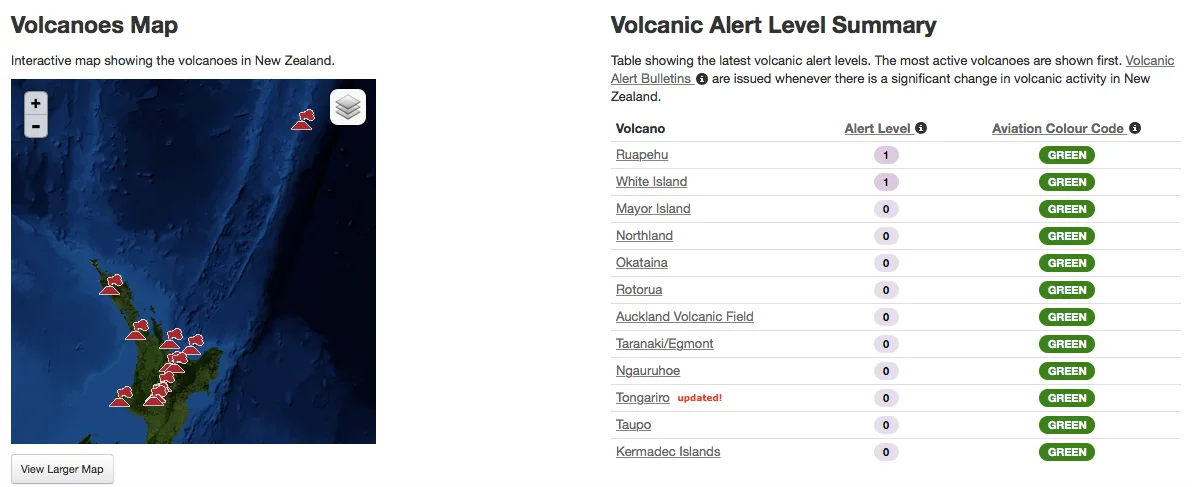 Do you live near or spend any time near one of New Zealand's active volcanoes such as Ruapehu or Tangariro, or spend much timing skiing on their slopes?
Then check out the hazard posters below for specific hazards on and surrounding those mountains:
What to Do in an Eruption?
The GNS Science website has a full run down on what to do in an Eruption:
"The appropriate actions to take when a volcano threatens depends on style of activity and how far you are from the vent. If you are close to the volcano, say within 3-5 km, you may need to move further away. If you are more than 5 km away then you may be able to stay where you are. Evacuations will be coordinated by Civil Defence and the Police. Listen to your TV and radio for advice and information.

For our frequently active volcanoes like Ruapehu, Ngauruhoe and Tongariro public areas are reasonably safe. Very few people in New Zealand are too close to an active volcano during a normal day – hence you will be able to remain at your place, provided you take simple protective measures."
See the full explanation here.
Download Now
Access your '7 Free Emergency Preparation/Survival Apps Specifically for New Zealanders' Now.
Turn your phone into a "digital swiss army knife" and be prepared for any situation.
Lava Flows – How to Be Prepared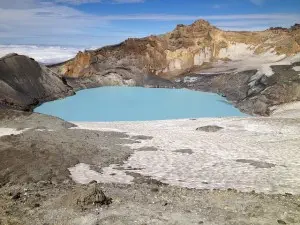 If you live near a possible eruption site then you may face the risk of potential lava flows, pyroclastic flows, surges or lahars. Make sure you are aware of this and be prepared to evacuate when asked to by police or civil defence. GNS advises:
Take with you

Essential medicines, toilet items and baby needs
Important documents e.g. identification, insurance, photos
Transistor radio and torch
Extra clothing

Before leaving

Consider your pets and animals
Turn off water, electricity, gas and heating oil at the mains.
Secure premises

When you reach safety

Listen to your radio for further instructions, including registration requirements.

After an Eruption

If you have been evacuated, return home only if you have been advised by Civil Defence that it is safe.
Seek medical help or counselling if needed.
Write a list of all damage as soon as possible.
It takes a long time to recover from an emergency – so tell Civil Defence of your on-going needs."
See the full article here.
Volcanic Ash Fall – Be Prepared for the Most Likely Risk You'll Face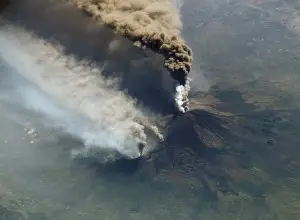 For most people the more likely risk you'll face in the event of an eruption is from Volcanic Ash Fall. This will occur if the wind blows ash in your direction and can impact hundreds of Kilometres from the volcano itself. So pay close attention to these points.
Again via GNS here are the steps to follow to prepare for an Ash Fall:
"Stay indoors
Close windows and doors. Stop ash entering the building
Do not run air-conditioning or clothes dryers
Listen to the radio for advice and information
If outside seek shelter; use a mask or handkerchief for breathing. Wear protective clothing especially if working in the ash fall, and goggles to protect the eyes.
If possible do not drive, park your car under-cover or cover it
If you must drive, drive slowly as ash fall will reduce visibility. You may need to use the car headlights because of the reduced visibility. Do not use the car's ventilation system. Ash on the road surface can also reduce traction.
Do not rush to your child's school. Schools are responsible for the safety of the children. Schools will notify you of any emergency procedures which are to be taken.
Keep pets indoors.
Check that livestock have enough food and water. May need to shelter livestock if the fall is heavy.
Disconnection of roof-fed water supply is only required when an ash fall is occurring or during the clean up to stop ash entering the storage tanks.
If you are uncertain of what to do seek advice from civil defence"
Read the full article here on the GNS website, which also covers:
How to Protect you family and property against ash fall
How to clean up after an ash fall
In Conclusion
While the chance of a volcanic eruption affecting you is actually very low, it is a high impact event should one occur. So be sure you know the basics at least and assess what the risk is in your area. This article covers the basics. Also check out the NZ Government GetThru site for more information including how to develop a household emergency plan if you don't yet have one.
Download Now
Access your '7 Free Emergency Preparation/Survival Apps Specifically for New Zealanders' Now.
Turn your phone into a "digital swiss army knife" and be prepared for any situation.