1-12 Person Emergency Survival Kit in a Wheelie Bin
The largest in our range of survival kits. This kit is designed for up to 12 people, contains emergency rations, survival blankets, ponchos, first aid essentials and much more. Will last 12 people up to 4 days.
This kit comes supplied in a 120L Wheelie Bin for safe storage and easy access.
Please note: The survival kit contents and brands may vary from time to time due to availability. But quality will never be compromised.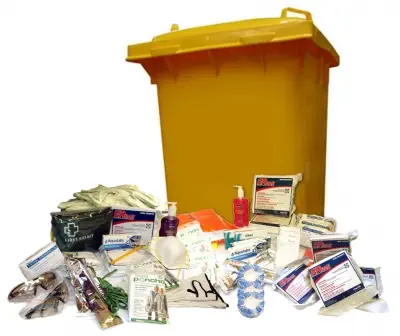 Contents List:
1 x 120L wheelie bin
5 x Large plastic bags for waste
6 x Pencil & notebooks
36 x Disposable masks
12 x Survival sleeping bags
12 x Emergency survival blankets
40 x Assorted light sticks
1 x 1-12 person first aid kit
10 x Pack of facial tissues
6 x Paracetamol tablets 20pk
6 x Aquatab water purification tablets (50pk)
10 x Hi viz vests
5 x 237ml hand sanitiser
1 x Box of disposable gloves (100 box)
12 x Pair leather work gloves
5 x Rolls of insulation tape
12 x Disposable ponchos
12 x Clear safety glasses
2 x Large rescue shears
1 x 10 meter length rope
5 x Instant ice packs
1 x Eye bath with 500ml saline
12 x CD head torch
2 x Wind up crank radio flashlight
12 x Food ration bar 3600 calories