Workplace 1-15 Person First Aid Kit
This medium sized first aid kit is designed for 1-15 people and is perfect for small factories and offices, large automotive workshops and mobile work crews. Comes in a plastic wall mountable box or a soft pack as shown below.
Assembled in New Zealand.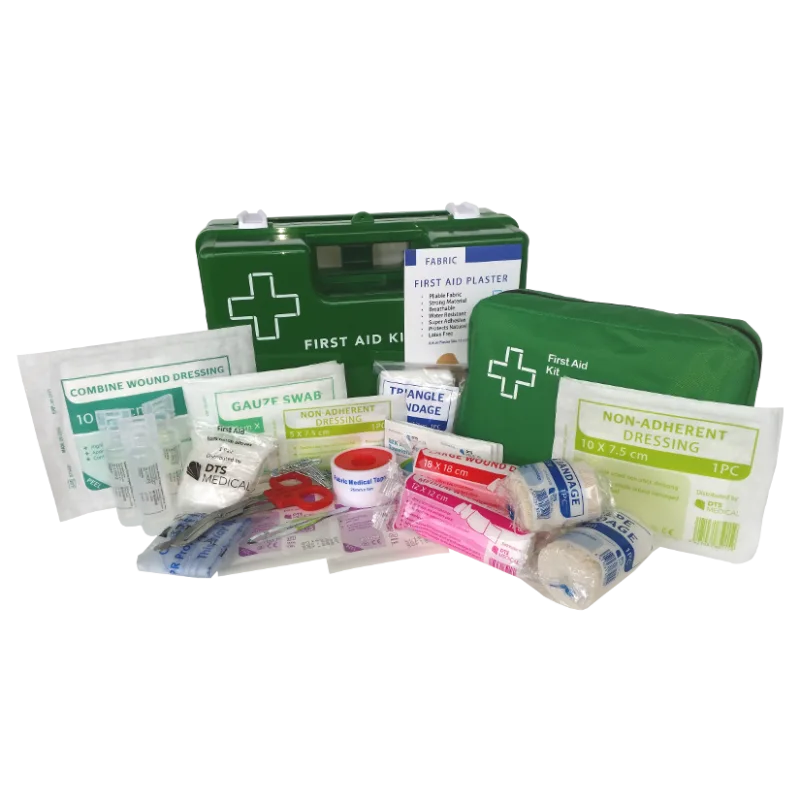 Note: Contents lists are correct at time of publication. Could vary slightly from that listed. Images are for reference only and contents can vary from pictures.
Contents List:
| | |
| --- | --- |
| Contents Work Place 1-15 person | Quantity |
| Triangle Bandage | 2 |
| Roller Bandage 5cm | 1 |
| Roller Bandage 7.5cm | 1 |
| Medical Tape 25mm | 1 |
| First Aid Tips | 1 |
| Clean Up Bag | 1 |
| Scissors Medium Rescue Shears | 1 |
| Safety Pins | 10 |
| First Aid Tweezer | 1 |
| Antiseptic Wipes | 4 |
| CPR Face Shield | 1 |
| Examination Gloves Pair | 2 |
| Eye Pad Single | 2 |
| Gauze Swabs 2's | 4 |
| Non Adherent Dressings Small | 1 |
| Non Adherent Dressings Medium | 2 |
| Wound Dressing Medium | 1 |
| Wound Dressing Large | 1 |
| Combine Dressing Small | 1 |
| Fabric Plasters Assorted | 12 |
| Fabric Plasters Normal | 50 |
| Fabric Plaster 1m Dressing Strip | 1 |
| First Aid Bag Or Container | 1 |
| Ampule Saline | 90ml |
| Hep Warning Label | 1 |