1 Person/Vehicle First Aid Kit – Option 1 with Fire Extinguisher in Bag
Ideal for people working on their own, this compact 1-person kit is designed to provide limited but essential first aid coverage and includes a compact fire extinguisher with mounting frame.
Assembled in New Zealand.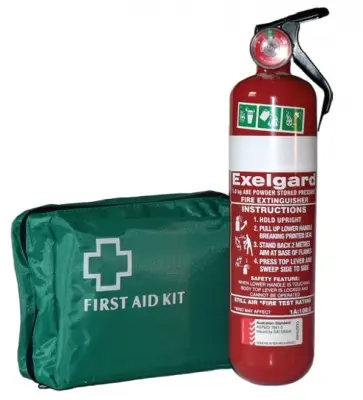 Note: Contents lists are correct at time of publication. Could vary slightly from that listed. Images are for reference only and contents can vary from pictures.
Contents List:
First Aid Kit:
2 x Triangle Bandage with 2 Safety Pins
1 x Eye Pad
1 x Wound Dressing
1 x Non Adherent Dressing 5cm x 7.5cm
1 x Gauze Swabs 2's 7.5mm x 7.5mm
1 x Roller Bandage 5cm wide
1 x Paper Tape Roll 1.25cm
20 x Plasters
1 x First Aid Tweezers
1 x Economy Scissors
2 x Antiseptic Wipe
1 x CPR Resuscitation Mask
1 x Examination gloves
1 x First Aid Tips
1 x Aids/Hepatitis Warning Label
1 x Carry Pouch
1 x Clean Up Bag (Contaminant)
1 x Fire Exstinguisher:
AS/NZS Standard Approved
Fire Rated 1A:20BE
Single Strap Metal Vehicle Bracket
Large High Quality Gauge
Metal Handles
Brass Valve
UV Rated Paint System
85% MAP Powder
AS, CAMS Approval