20 Meal Back Country Cuisine Freeze Dried Food (Most meals include meat – choose your own combination including gluten free, vegetarian or vegan)
Add variety to your outdoor and emergency meals with a wide selection of meals from Back Country Cuisine. Choose your own combination…
NOTE: Ships from suppliers warehouse in New Zealand. Please allow 7-9 days for shipping for this product.
Apart from being light, tasty and super-fast to prepare, the meals are made from freeze dried vegetables and meats with delicious sauce mixes that retain their natural flavours.
The result is tasty freeze dried meals that can be prepared inside the pack in 10 minutes with just a bit of boiling water.
During the freeze drying process, crystals of frozen ice in the food are sublimed (evaporated) to water vapour in a vacuum chamber. The result is a completely dry product that does not shrink during the drying process. When prepared for eating, the water is quickly absorbed by the pores left by the ice crystals to give a juicy, tender food product.
After packing, the food is heat-sealed in foil pouches from which all the air has been removed and replaced with nitrogen gas, keeping the food safe and flavoursome for at least three years.
Back Country Cuisine meals are formulated to meet the high energy needs of outdoor activity and our products have a careful mix of the essential components needed for a healthy diet. This includes balanced carbohydrates and sugars for instant energy, protein to replenish exhausted muscles and oils and fats to keep you feeling full.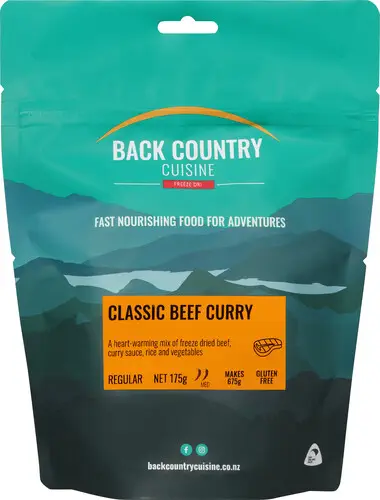 How to Order
Make sure you tick the box beside each flavour you want.
Ensure your selection totals 20 flavours
If you want to order more than one 20 meal carton with different flavours, you'll need to add one to cart and then come back and choose the 20 flavours for each subsequent 20 meal carton.
NOTE: Ships from suppliers warehouse in New Zealand. Please allow 7-9 days for shipping for this product.
Additional Product Details:
One carton includes 20 x Regular serve main meals
Food is safely sealed in 2 serve zip seal pouches
Made in New Zealand from local and imported ingredients
4 year best before date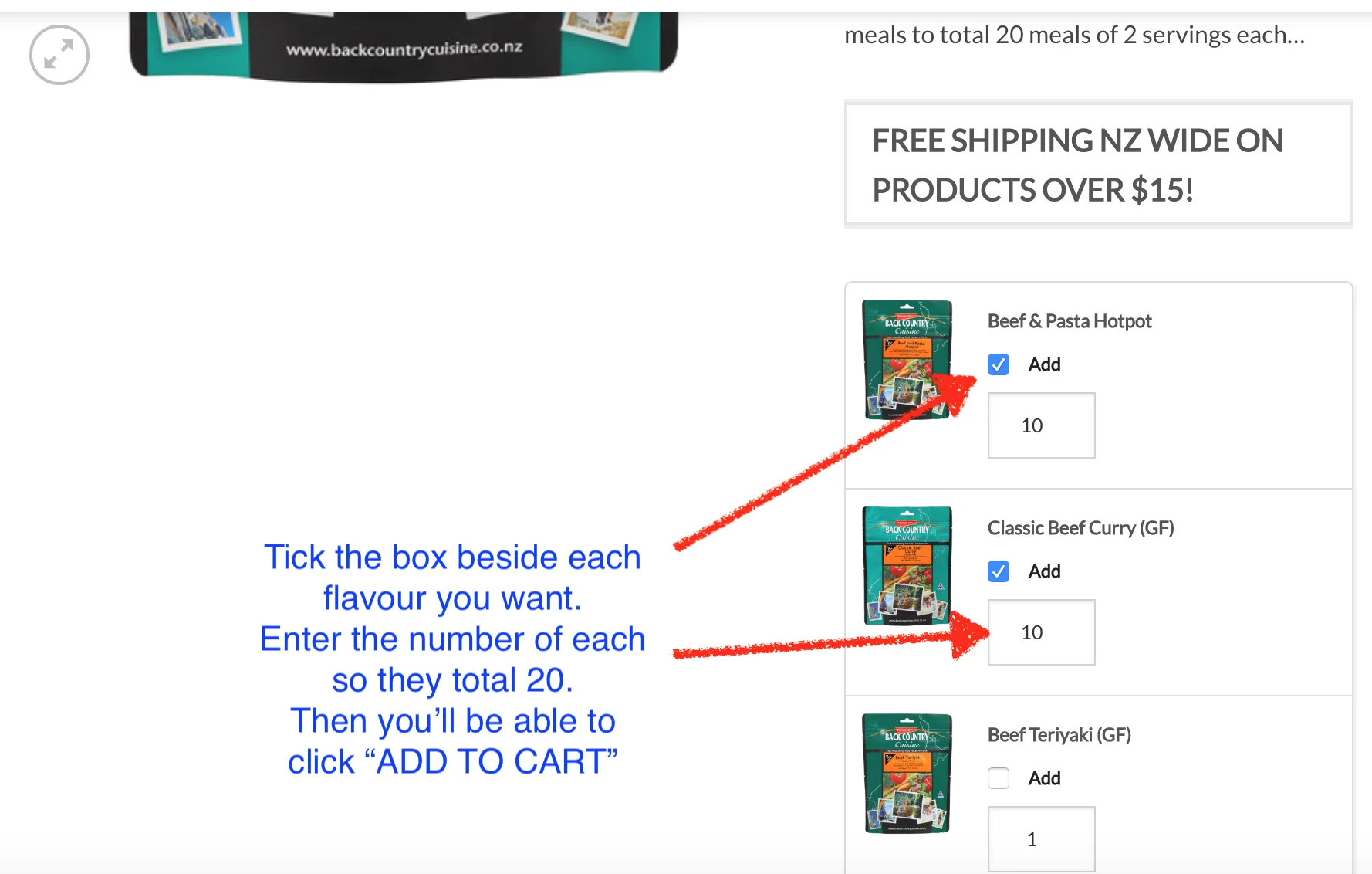 Just add boling water – no cooking required
Back Country Cuisine meals are easy to make: Tear open the pouch, add boiling water and stir. Close the ziplock to seal in the heat. Wait for 10 minutes before you enjoy your tasty full flavoured meal.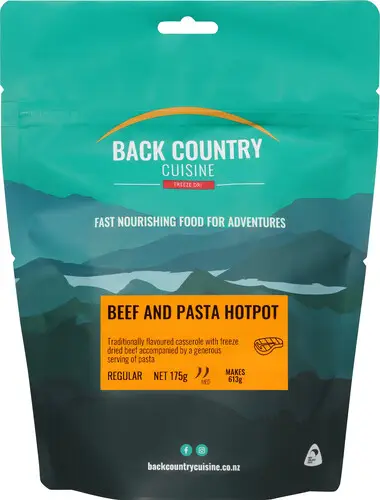 How long do these meals last?
Back Country Cuisine gives a 4 year best before on all items but is safe to eat beyond that, provided it's stored appropriately and the packaging remains sealed. The manufacturer states:
"We know from our advanced shelf life testing that our meals are safe to eat well beyond four years as long as the bag hasn't been opened or damaged."
Other types of dry food only last a year or less.
Handle higher storage temperatures
Because of their exceptionally low moisture content Back Country Cuisine products handle higher storage temperatures better than wet-pack meals & higher moisture content dehydrated product.
Less cleaning up
Back Country Cuisine freeze-dried food can be prepared and eaten in the pouch so you may only need to clean your spoon.
The zip seal pouch makes rubbish disposal a breeze; you just toss in any other rubbish, roll it up, zip it closed and pop it in your pack.
What's included in this package?
Your choice of any combination of the following meals to total 20 x Regular serve main meals:
Beef & Pasta Hotpot
Classic Beef Curry (GF)
Beef Teriyaki (GF)
Honey Soy Chicken (GF)
Thai Chicken Curry (GF)
Sweet & Sour Lamb (GF)
Lamb Fettuccine
Roast Lamb & Vegetables (GF)
Creamy Carbonara (Vegetarian)
Pasta Vegetariano (Vegan)
Mushroom Bolognaise (Vegan)
Porridge Supreme (Breakfast)
Ingredients and Nutritional Information
Click the + and – to see ingredients and nutritional info for each flavour