Like many New Zealanders we like to spend the odd weekend (or longer) camping. In a recent case not "wilderness style" but just your common old Kiwi beachside campground.
With the trip ending with a sprained ankle for the junior member of the household it was a reminder to make sure the first aid kit is stocked up.
With some not so thoughtful fellow campground members at times we were also thankfully to have our trusty ear plugs on hand. Perhaps not something you'd expect to need in the "great outdoors"!
Camping checklists are a dime a dozen and it depends where you go as to exactly what you'll need.
So besides the obvious what else should you consider taking with you on your next camping trip?
Here's some excellent camping tips from us, elsewhere in New Zealand and abroad:
Cheap Camping Hacks:
Camping gear can run into the many hundreds or thousands of dollars. But there's also some ways to DIY much of what might be classed as camping necessities. Here's a few dual usage items to use in place of store bought items.

Source: Fix.com
1. Freeze 2L bottles of water and place them in your chilly bin
Another idea we also personally use to also help keep your chilly bin cool:
2. Freeze your camping meat
I like to freeze my meat, bacon etc for day 2 & 3 – it acts like an ice block in the cool box as it defrosts, and is fresh and ready to eat a day or two after arriving.

Via EcoCampUK.co.uk
3. Point a head lamp into a jug of water for an instant camp lantern.
Just make sure it's an opaque plastic milk bottle, not clear plastic.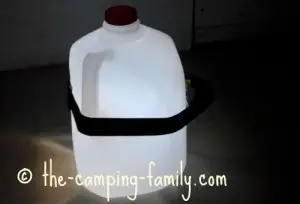 You might also want to consider these nifty inflatable solar powered lanterns. Perfect for camping. They take up very little room, recharge in the summer sun and provide plenty of light to fill a tent. Learn more.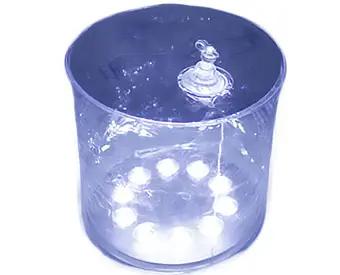 4. Use a shoe organizer to help with camp kitchen set-up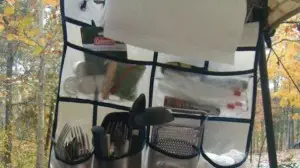 Via LifeHacker.com
5. Repurpose a coffee can to hold and protect Toilet Paper
Interesting idea – but we might just stick to keeping ours in a plastic bag…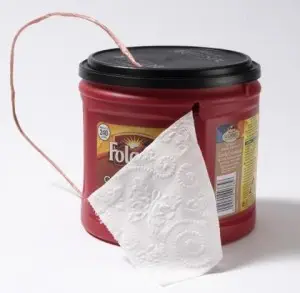 Via FieldandStream
Bonus Tip: Consider a Water Filter Bottle
The Sport Berkey Water Bottle means you can get drinking water from any water source. A river, pond, lake etc. Even if it's murky looking. The built in water filter works in the same way as the larger Berkey Systems. So you'll be sure to have water wherever you go.
6. Make single-use soap leaves from a bar of soap and a vegetable peeler
This looks worth a try…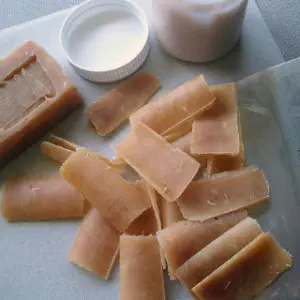 7. Keep your tent and sleeping bag zippers zippy with candle wax
(We could have used this solution when we ran into this problem personally last year with a sleeping bag "zip failure" on a cold night).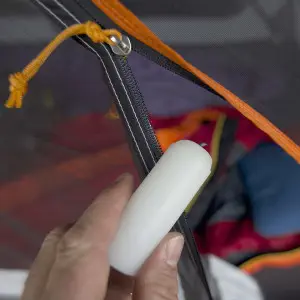 Via REI
8. Keep a Camp Box to make packing simple
Here's one our family personally uses to make packing simple:
Create a separate camp storage box, packed with your utensils, matches, torches, spare batteries, suncream, insect spray, spare pegs, tomato sauce, coffee, tea bags, cling film, foil, long life food stuff, spices, oil etc etc etc. Then all you need to do is throw it in the car and chuck in the sleeping bags, tent and beds and you're are almost done.

Via EcoCampUK.co.uk
Plus it can double as a grab bag/bug out bag in case of emergency with all your camping gear stored in one place when it's at home.
9. Pocket Knife or Multi-Tool
There's always something to tighten trim, or open and a decent pocket knife is a must. Or consider a simple credit card tool to keep in your wallet no matter where you go. We're offering them for free currently. See how you can get one for free here:
Order Now
Get your '11 in 1 Survival Multitool' for free now.
Just pay shipping & be prepared for any situation.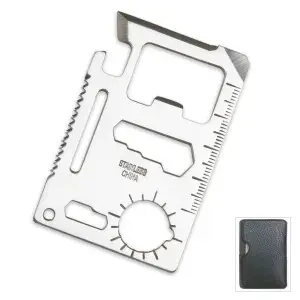 10. Take lots of plastic bags
– especially if it's wet to pack away your clothes so they stay dry, or separate the dirty ones – good bin liners for rubbish – lots of campsite require you to take your rubbish home and no one wants a boot full of stinky leftovers.
Via EcoCampUK.co.uk
11. Eggs In A Mason Jar
Ever discovered broken eggs when it comes time for your morning cook up?
Empty a dozen eggs into a mason jar for easy travel. They fit perfect in the cooler without the worry of breaking. Just pour them out as you need.
Here's a couple from Top 10 here in NZ. We've made use of the first one on previous camping trips to aid in getting some sleep:
12. Earplugs (tent walls are thin, and noises do carry)
– often overlooked, but a great idea if you are camping somewhere with lots of other families or couples, and especially if you are camping over holidays like New Year's Eve.
13. Clothesline (rope) and pegs – to hang out any wet clothes, swim suits and towels.
Kathmandu offers a couple of camping tips. The second one is quite ingenious:
14. Take nylon rope and duct tape
Nylon rope comes in handy for tent support and hanging up wet clothes, while duct tape fixes just about everything – use it to mend torn shoes and broken tent poles.
We've used the frozen bottles mentioned earlier for the chilly bin. Well here's another use for a water bottle but to keep you warm instead – very clever:
15. Stay warm. In chilly weather, fill up a water bottle with hot water and use it as a hot water bottle.
Via Kathmandu
The Added Benefit of Camping Gear
What we personally like about camping gear is that it can have dual usage. Whilst generally used for recreation and fun, much of it also doubles as emergency preparedness/survival gear as well.
It also gets used regularly to make sure it's all in working order and the dual usage makes it value for money too.
So give some of the more unusual items on this list a try next time you go camping. A number of them might also come in handy in an emergency situation.
Have any camping tips of your own? Leave a comment below and share them with the rest of us! And if you give any of these a try come back and let us know how they worked out!
Download Now
Access your '7 Free Emergency Preparation/Survival Apps Specifically for New Zealanders' Now.
Turn your phone into a "digital swiss army knife" and be prepared for any situation.